Description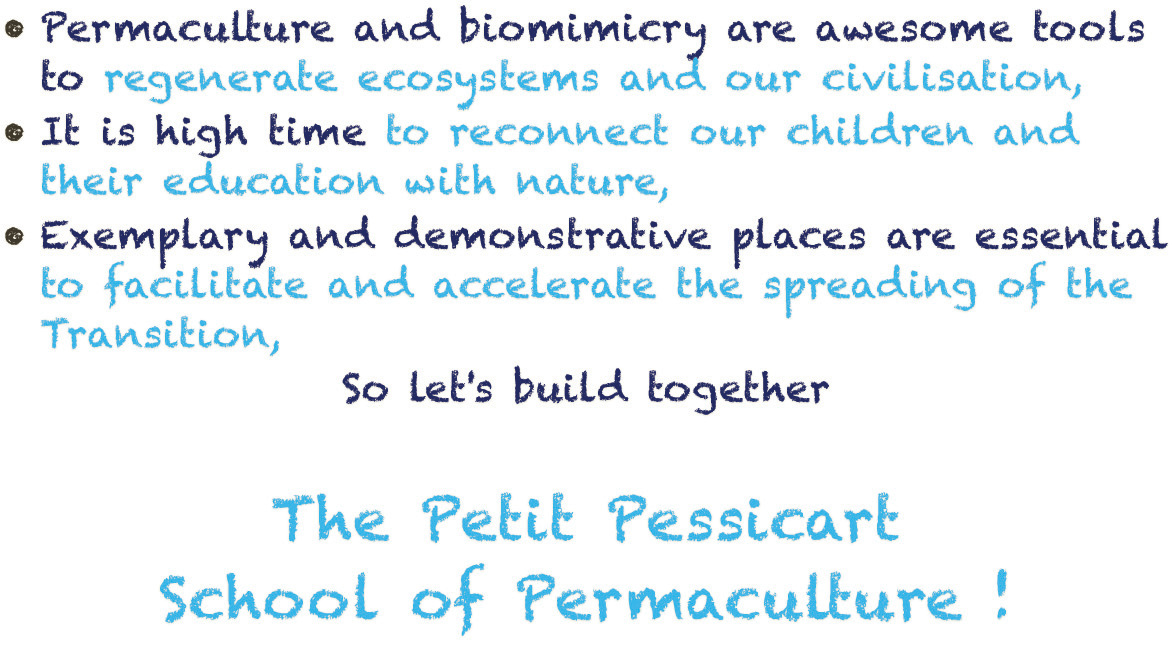 Hey ! We are Shilakong (to know the origin of this funny name, click here!), an environmental education through permaculture NGO established in Nice, France. Our goal is to "facilitate individual and collective transitions towards ethical and sustainable lifestyles".
Our first Zeste, at the end of 2017, allowed us to develop a land of one hectare, on a hill a few steps from downtown Nice: the Jardin du Petit Pessicart (retrospective in pictures in the "history of actions carried out" section ").
Here is what has been achieved thanks to you ...

We reforested it with around 40 young trees, following the model of garden forests. Many contributors have come to plant the trees and perennial plants they sponsored!
A small greenhouse was purchased and mounted to house our seedlings.
We have cleansed it and made it accessible and safe (paths, stairs, railings, ramps, planting formwork, etc.), obtaining in particular the accreditation of an "educational farm" from the French Ministry of Education. This allowed us to receive 24 classes last year.
We were able to buy equipment for gardening for children as well as adults, and thus allow them to practice permaculture during introductions or more advanced courses, workshops or school outings, group gardening groups ...
We have built a 25m² kitchen using pallets, wood, earth and straw, thanks to a formative project in eco-construction. It is an ideal space to prepare meals (school, training, events ...) and to raise awareness and train in healthy, lively, sustainable food !

Also inspired by the circular design (use of potential waste resources for construction: pallets, rubble, advertising tarpaulins, bulky items, barrels, etc.), dry toilets with 2 cabins + a shower and a tool shed near the plantations. could see the light of day.
An old water storage tank was covered, secured (masonry recovery) and partially rehabilitated to serve as a reserve.
A section of "barefoot" path was created… and used by many groups of children for sensory reconnection upon their arrival ;-)
A central plank, under the hundred-year-old oaks and cypresses, could be enlarged and supported by dry stone walls. From Spring to Autumn, it constitutes a magnificent and shaded agora for class picnics, theoretical parts of trainings, collective design sessions, meetings and GA of the association, but also concerts and projections ...
A water distribution system has made it possible to create drinking water and sprinkler points in different parts of the garden.
A system of water collection and soil regeneration, with clay coated canals (swales), cultivation mounds, pond and tree plantations following the syntropic agroforestry model, was put in place and, in more of its beauty, gives surprising results in terms of production and water sobriety !
In short, with your help, a team of incredible volunteers ... and a certain gift for efficiency (recovery, zero waste construction etc) ;-) we were able to realize our first dream: "Design and create a demonstrative and educational garden, inspired by the ethical principles and design principles of permaculture, where children have the space to design their own vegetable gardens. The place is a space for sharing knowledge, allowing to immerse oneself in nature and giving the opportunity to develop one's creativity. "

Le Petit Pessicart Permaculture School
As should be in the Transition, the wheel turns and after having dreamed, planned, realized and celebrated - in particular by hosting in April 2019 ... Rob Hopkins - we have for a few months sown a new dream for the Garden.
With your help, we can materialize there an exemplary third place of the Transition, a permaculture school which demonstrates, inspires and trains to the regeneration of the world: :
""The Petit Pessicart permaculture school is a third place centered on permaculture and pedagogy. It is a tangible demonstration that the sobriety resulting from the reintegration of human activities and nature is achievable, desirable, within reach. It invites us to align our individual and collective trajectories with the needs of the world.
Open to everyone, it promotes sharing, learning and experimentation, for a reconnection to nature which inspires and supports individual as collective, internal as societal transitions "
Describe your project goal
To realize this school, we turn to you. By your contribution, you will allow the implementation of a new permaculture design for the Garden, the fruit of several months of co-creation: collective intelligence and design tools, monthly workshops for all audiences ("design groups") , permaculture training ...
This layout includes 3 stages, which constitute the landings of our Zeste: :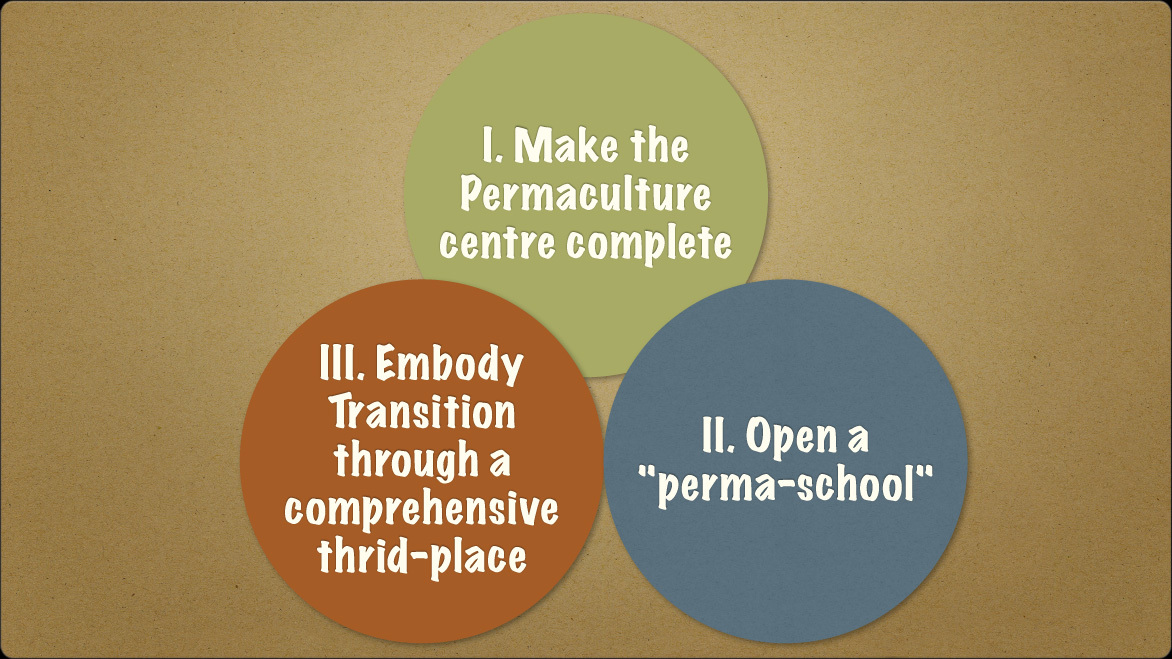 click here for the details of these 3 steps

1. To be accomplished as a permaculture center, demonstrating different techniques and allowing the practice and training of children as well as adults.

For this, the forest garden will be extended to use 2400m² of land facing South / West, to be reforested .
This will make it possible to play a real role in local food resilience, and to provide the organic canteen with an ultra-short-circuit for the future school, which can also be used for "innovative cuisine" training and events.
Its creation and maintenance will provide the opportunity for numerous training courses: introductions and design courses in permaculture, collective gardening workshops, educational plantations, syntropic agroforestry, soil life and biodiversity, seeds, etc.

2. Open a perma-school (alternative primary school in permaculture) for around twenty children spread over several levels, from kindergarten to elementary.

The garden has had the qualification of "educational farm" granted by national education for 2 years, but a school requires a level of security and additional equipment. Furniture and many tools are necessary to build trunks allowing children to safely practice permaculture and eco-construction, to discover and study the symbiosis that occurs between plants and animals present in the garden, to work concretely (projects) and holistically (using all the children's intelligence) the different "subjects", to read, create (including of course land-art), play, write, count, listen… Besides those of the class " resident ", these facilities will accommodate many other children, allowing a wide variety of interactions:
Quelques mots sur le projet pédagogique ici :
https://peertube.scic-tetris.org/videos/watch/b46b26ee-adfd-4f4f-928a-287dd6164fd6

3. Set up a Third Place, a palpable synthesis of what covers the necessary regeneration of ecosystems, both natural and human :

eco-construction, water and energy collection and storage, soil regeneration, composting, dry toilets, DIY / 0-waste design and layout, repair cafes, knowledge sharing & autonomous learning, collective intelligence, sustainable food ... Demonstrate all these techniques in one place facilitates their understanding and integration, and allows numerous workshops and training courses to facilitate their dissemination.
It is through this implementation that the Garden will become the Petit Pessicart Permaculture School!
Here it is, presented in 7 points :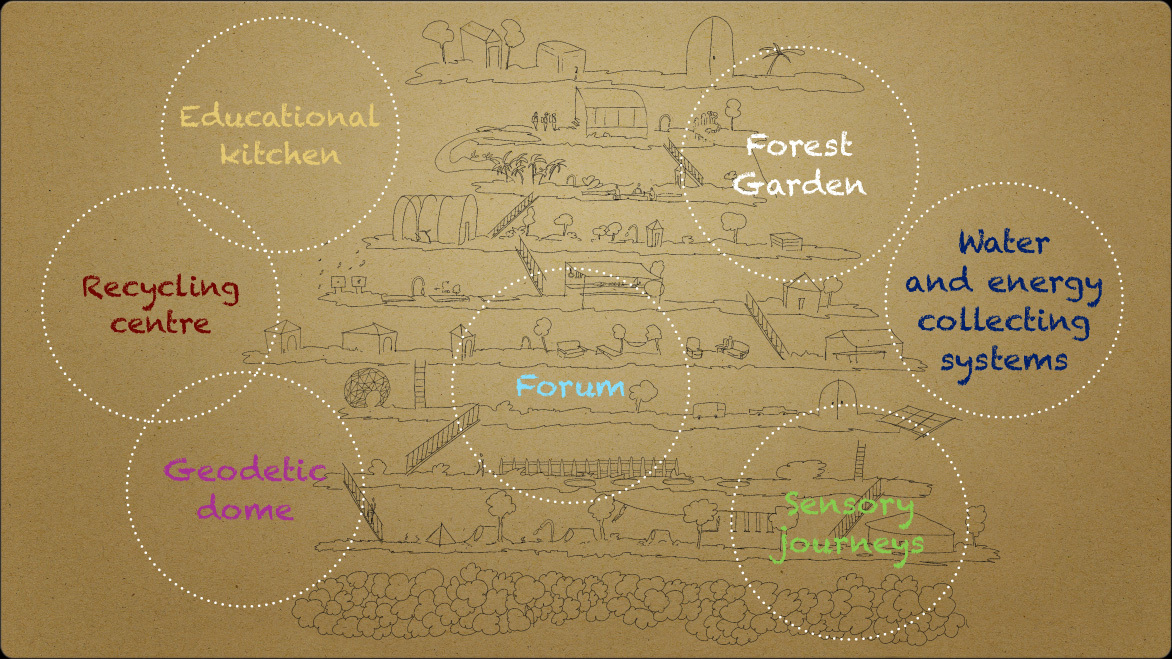 The Forest Garden:

develop, expand, achieve a nourishing, beautiful, regenerative garden forest, allowing abundant and organic production, in sobriety (water, inputs, and ultimately human energy) while regenerating the ecosystem (soils, biodiversity, living food).
La Ressourcerie (the recycling workshop):
The group was able to demonstrate its ability to recover (bulky items, pallets, coffee bags, rubble) and transform visible waste into resources to create (kitchen, tool shed, dry WC / shower, planters with drainage, shelves, etc.). It is time to organize our reserve next to an ergonomic, safe (well manageable by children) and well-equipped workshop, and thus train in these techniques, organize repair cafes and of course continue to manufacture what we need.
Elements allowed by your contributions:

Tunnel (all season crops)
Water collection, irrigation and phytopurification system (sumps, pond, canals, tubs / planters with sewage drainage)
New zones designed collectively (mandalas, keyholes, etc.) to bring the surface to more than 2000m² - against 700m² currently- and thus really contribute to local food resilience
A dozen stairs (class 4 wood, stainless screws) to serve all the planks. Ramps (school) and inclined planes (PRM, wheelbarrows)
And of course trees, perennials, seeds, soil improvers (including the purchase of a grinder), formwork, mounds …
Elements allowed by your contributions:

An established, tools: sander-grinder, new more efficient screwdriver-drill, toolbox suitable for children, vices, screws for pallet shelves ...,
The recovery in masonry of certain parts of the tank / reserve, hermetic trunks for storing educational tools and supports,
A direct unloading gate from the access road (take care of humans ;-))
The geodesic dome:
a harmonious "classroom", training, sharing and co-design space of 30m2 (6m in diameter), representative of these "natural patterns" that permaculture likes to use… It will also be suitable for human and social permaculture workshops, well-being or music (hang-drum lessons...). Heatable, the dome will take place on a "Zen" board, and will give pride of place to light (central well), eco-materials and / or recovery (pallets, blinds, etc.).
The sensory routes:
A barefoot course, made up of trunks, paths, small bridges and tubs filled with different materials, groves of aromatic plants, a collective art space always in open-source, slacklines and canopy trail (belvederes), make of these journeys from places of reconnection, to nature and to all our intelligences !
Elements of the Dome allowed by your contributions:

A floor in full pallets,
Stainless steel connectors and local wooden sections,
A cover in falling blinds and "crystal" of recovery,
A 7kw wood stove and its securing "enclosure",
Interior fittings: carpets, cushions, small tables and pallet shelves,
A video projection screen and an erasable board.
Elements of the course allowed by your contributions:

Materials for the tanks (sand, clay balls, ground material, straw, pozzolan ...),
Class 4 construction wood and stainless screws,
Slacklines and security elements,
Aromatic plants,
Interior fittings: carpets, cushions, small tables and pallet shelves,
The drinking water point & the chill-out area.
Reception, security and embellishment:
in order to offer a safe, ergonomic environment, designed for all users, and which highlights the beauty of the surrounding nature, we must upgrade, fence and secure new spaces and equipment. Already having the official agreement of the French Ministry of Education, the garden will thus be able to meet the various standards for welcoming the public and be more inclusive of newcomers to the transition with more comfortable equipment - more cozy dry toilets, for example ;-)
Agora of the great oaks:

it is a multifunctional space, as permaculture likes! Its layout will be used for design and construction workshops on pallets and will lead to approximately seven sofas and three coffee tables, all on all-terrain casters. Thus, the layout will be flexible and usable by the class, for meetings and GA of the association, for training but also for parties and concerts!
Elements allowed by your contributions:

Roll screen for nearly 200m + specific tools for laying it,
Standard railings for certain spaces dedicated to toddlers,
The gates (repair, improvement) and two new gates (access to the pond, emergency exit),
Fasteners, doors, roof and small furniture for dry toilets + materials for solar water heaters,
The extension of the drinking water circuit (sinks in recovery / self-construction).
Elements of the Agora enabled by your contributions:

Casters and stainless screws,
Outdoor cushions,
Storage trunks,
The setting up of 2 workshops led by "Le Collectif Design".
Pedagogic kitchen:
An ultra-short circuit of a few steps connects the plantations from the forest garden to the kitchen. On site, there will be everything to consume or transform them: utensils, extractor, pizza oven, solar cooker, Berber fridge...
The kitchen itself has been eco-built :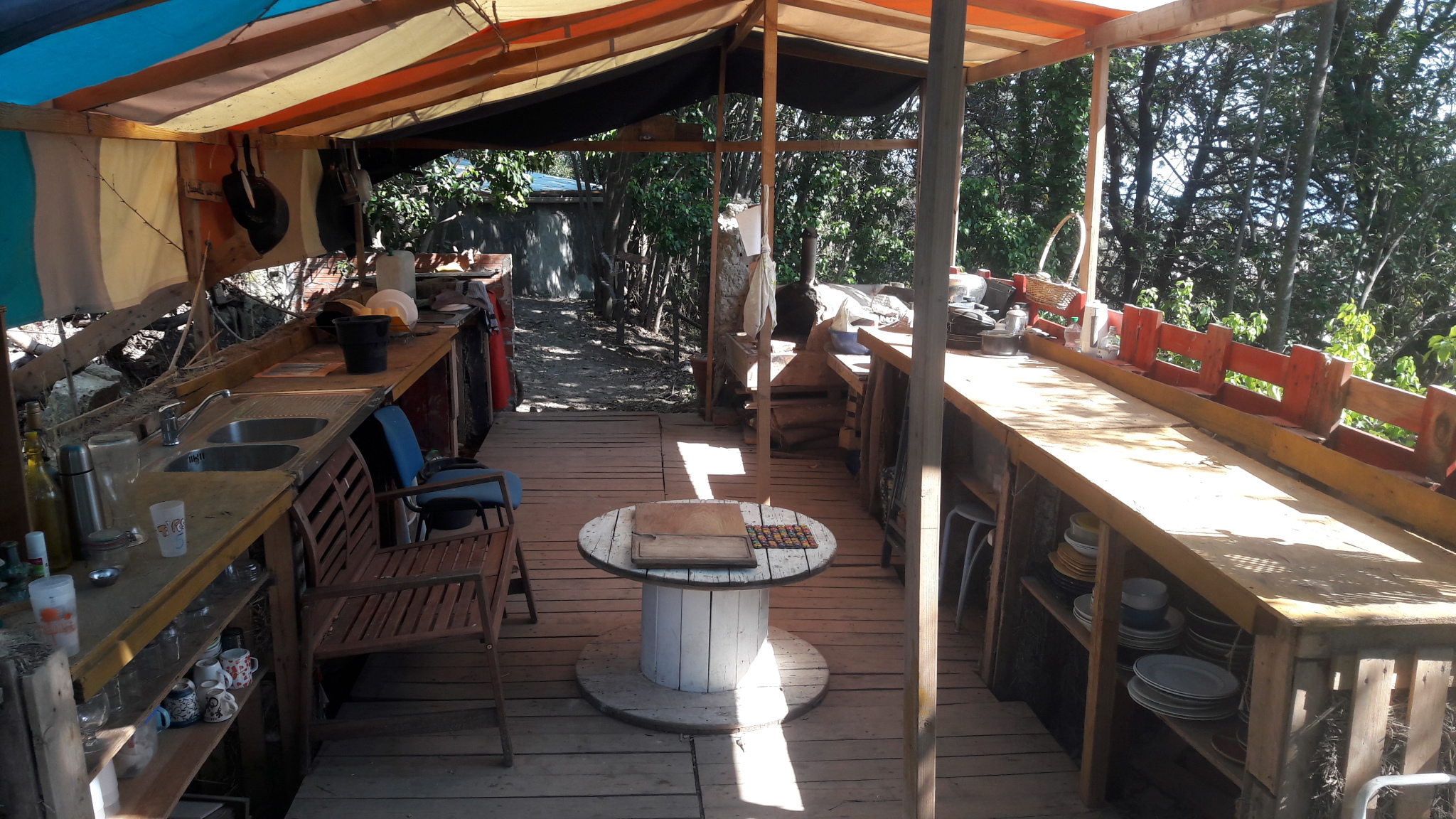 the rubble from an old shed was used as a drain, pallets were used as the floor and supporting structure, filled with a mixture of earth, clay and straw. It is healthy, lively and sustainable inside and out, and thus brought up to standard and equipped, it will be an ideal space to prepare meals (school, training, events ...) and to raise awareness and train sustainable food!
Elements of Cuisine enabled by your contributions:

Solar cookers,
The extractor, blender and manual utensils,
Picnic tables,
Stainless steel plates for upgrading,
The rocket stove.
We have carefully calculated the necessary expenses
Whenever possible, we will prefer the gift, the recovery, the construction, then the opportunity, and finally, only when necessary, the new purchase. In all cases, we will ensure a sourcing consistent with care for the Earth, the Human and all forms of life, the ethics of permaculture.
In addition, and as has been the case since its inception, the team is committed to making this implementation as many opportunities to share, transmit and train through practice. Here is a summary summary of each level. The detail of each landing (except the screw ;-)) is available here.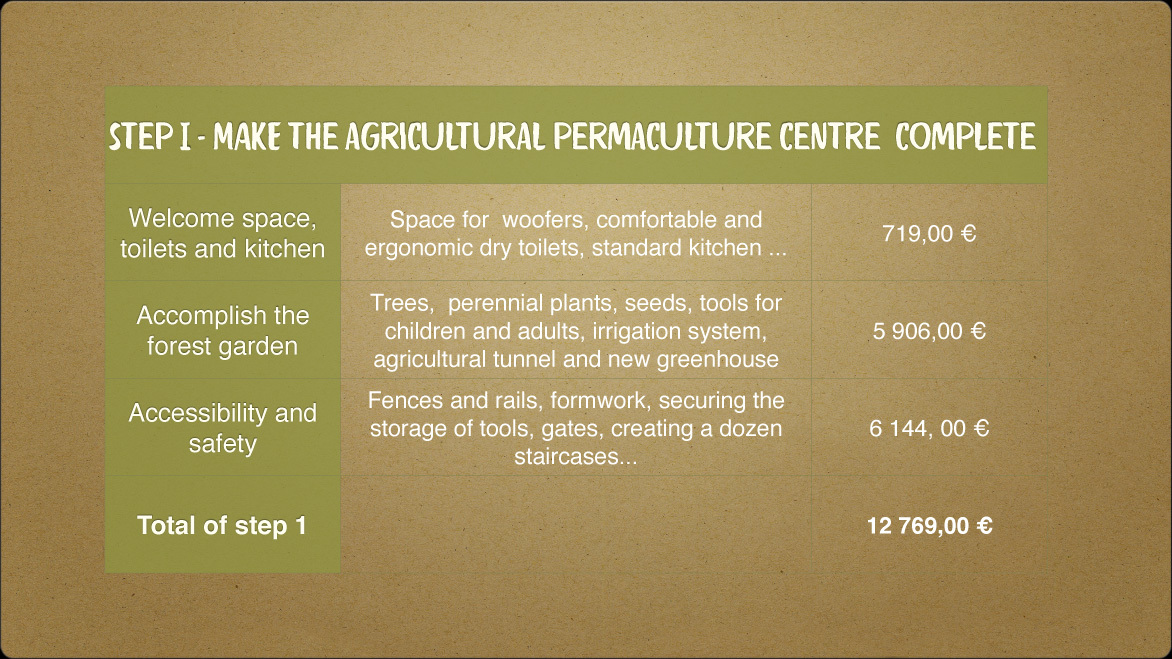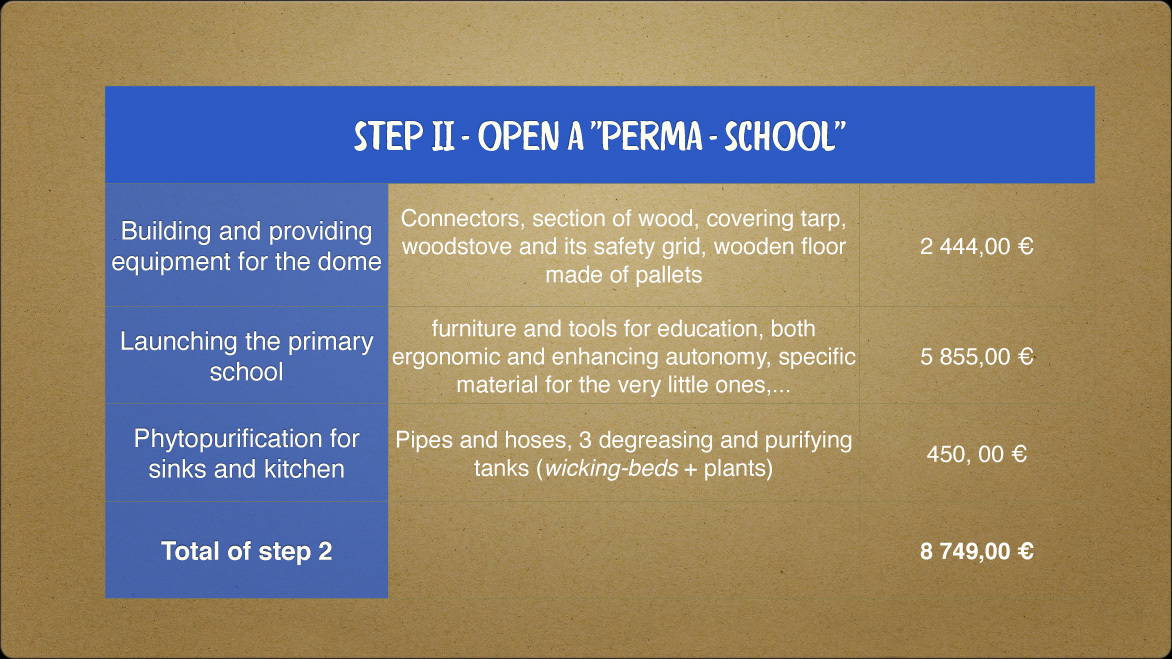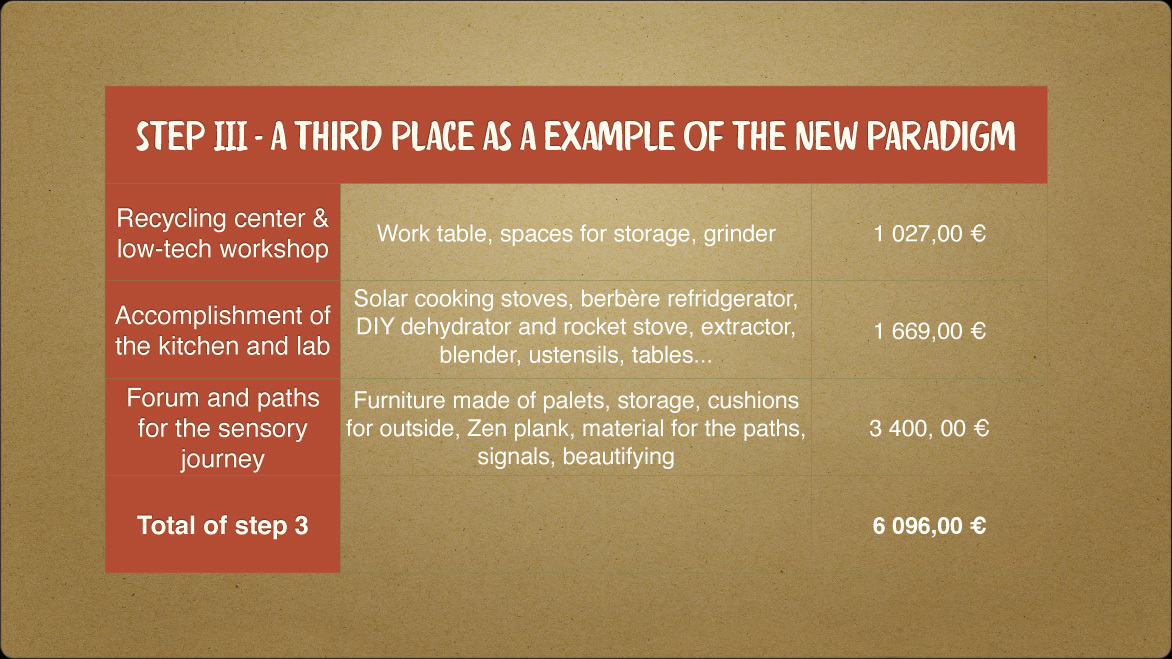 What if we go beyond the 3rd level? So your contributions will feed a pot to further decrease the purchase price of the Garden!
More info on the project? It's over there...
Project leaders

Shilakong is a French-based NGO for environmental education, aiming to "facilitate, in particular through permaculture, individual and collective transitions towards ethical and sustainable lifestyles." To follow us, here is:
Click for more info on the association and its educational and permaculture actions

In addition to the Petit Pessicart Garden / School, we are active at the Maison de l'Environnement in Nice (workshops, training, vegetable garden management in permaculture ...) and we intervene punctually on different places and events related to permaculture and transition.

Active in many areas of transition, we particularly support education. The association is in particular at the origin of

an E3D support and labeling system

(establishment in process of sustainable development) called

"Schools In Transition"

, aiming to facilitate the transformation of school buildings: planting, zero waste, collection , storage and sobriety in water and energy, ergonomics, bio-sourcing and environmental health… This transformation is driven by nourishment (climate fresco for teachers, introduction to permaculture for the steering committee of which the children are a part, technical solutions ...), co-constructed thanks to the facilitation of collective intelligence and design, and leads to a takeover by the students, in connection with their school learning (project pedagogy).

This process of integrating nature, transition and education finds its epicenter with the Jardin du Petit Pessicart, which was approved by the French Ministry of Education in March 2018

. The association has carried out numerous actions there for a young audience. For example :

Hosting 10 primary classes in 2018 and 24 in 2019, for environmental education through permaculture and reconnection to nature.
The facilitation of monthly workshops on permaculture (3-6 years), children (6-12 years) at the Maison de l'environnement in Nice, and permaculture management of their vegetable patch,
Support for the school project "Nikaïa goes green",
With the airy center of the Forum Nice Nord, reception at the Kindergarten for 6 to 12 year olds a Wednesday a month throughout the year.
With the Nice Côte d'Azur Metropolis, a "School for Sustainable Development" system (workshops with 15 classes).

In terms of permaculture activities, the Garden receives introductions to regular permaculture, but also various design courses (Papillons Voyageurs, Lillian Sum, Permacultive ...). We thus received Tierra Martinez from the Na'Lu'Um Institute, organizers of the next International Permaculture Convergence, and Javier Bonifaz (Refugio Tikabamba) for a bioconstruction course which enabled the construction of the kitchen. A collective design group, led by the association and / or our friends from "Papillons Voyageurs"

Awards: 2018 Environment Trophy & Nice-Morning Trophy / Nice Côte d´Azur Metropolis "My solution for the climate"

---

Main partners

Institutional partners:

National Education (DSDEN 06)
Nice Environment House
Metropolis Nice Côte d'Azur
Lenval Foundation
CATTP Bellagio / CHU Ste. Married

Educational partners:

INSPE Nice
Lumia
IME La Corniche Fleurie
LINE Educational Sciences Laboratory
French Riviera University
Anpeip (Parents of HIP children)

Transition & Permaculture Partners:

Popular University of Permaculture
Zero Waste Nice
Let's grow up
Alternatiba 06
Permaculture Convergence 06
The Team: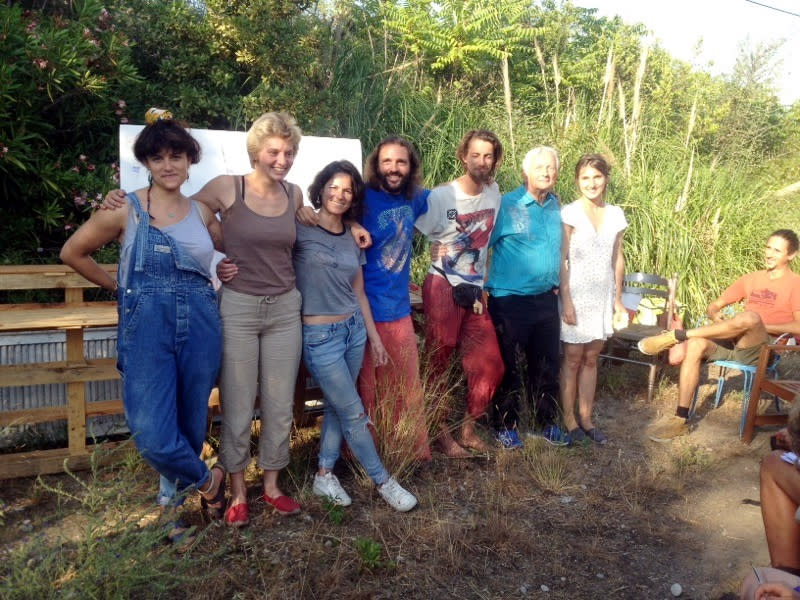 Since our first crowdfunder, our crew grew up and is now centered around a nucleus of more than 20 core-members
Here is part of the team (click):

Yoann

"Computer scientist converted into learning the values of permaculture and agroecology, I have been an active member of Shilakong for 2 years. Since joining the association, I have devoted my time to improving the garden, receiving groups, learning how to vegetable and, as a project leader, I will continue to offer framed workshops that transform the place. "

Christian "Papi"

"As a therapist for more than half of my life, I became aware of the growing impact on our cells and our minds of the imbalance in our environment and our food. Retired, so I decided to participate in a project, a place, a team to help, inform and train people, and especially children, to find this balance."

Léna

"Volunteer at the Shilakong association, I participate in participatory projects and support groups of trainees during training in the garden."

Olivier

"School teacher and co-founder of the association and of the Garden, I am committed to using permaculture to transform education. Teaching, co-creating, evolving, living within this wonderful group and amongst children, in this place as it can become thanks to you: that's what drives me!"

Lisa

"Volunteer of the association, I see in this place, a real fulfillment to experience, a new benevolent education to adopt. The joy of sharing feelings of accomplishment together, that's what the Petit Pessicart Garden offers us!"

Camille

"Initially an engineer in natural risk management, I have trained in recent years in a life closer to nature, becoming an eco-actor of ecological and citizen transitions. I am currently carrying out the project" Les jardins des Transitions "and accompanying Shilakong during participatory projects, design and the school system in Transition."

José

"I act, since 1961, for an organic, local and seasonal food. Current or past member of many alternative associations (AMAP, la Nef, Terre de Liens, Colibris06, Agribio06, Alternatiba06, Shilakong, Nice-Coop, etc) I participate (honorary president) in the Petit Pessicart Garden project for the integration of perma-culture and perma-schools in everyday life."

Marine

"Lover of nature since always, certified in permaculture by Antoine Talin (Workshop of alveoli & creation of the Cairns garden) and graduate of a Master in Ecology, I accompany the" Schools In Transition "and animates in the garden of Petit Pessicart discovery days of Permaculture to the delight of young and old!"

Jenn

"As a naturopath, the link between permaculture and health jumped out at me. I am very keen to take care of this magnificent garden, to meet others to learn and share, because this place lends itself wonderfully to health education and sustainable food."

Lou

"I joined Shilakong almost two years ago and did a most exciting civic service there! It was my first post-study year, following an agricultural engineering degree.

I was already involved in many areas related to agro-ecology (soil protection, defense of peasant seeds, experiments with crop associations ...) or popular education in the broad sense (animation and training) of a group of producers, support for farmers in individual projects ...). Since I have been in Shilakong, I also often interact with younger audiences (workshop for school groups, support for schools to revegetate them) and I witness their awakening in contact with nature. I found in this association a precious opportunity to mix my multiple passions and transmit the richness of the permacultural approach while experiencing it individually and collectively."
We are counting on you for this new adventure, which will see the completion and sustainability of our project:
THANKS FOR YOUR HELP !
---
History in pictures of the actions carried out :
this is what you allowed during our first Zeste! !