Description
The project
How can you play an active role in energy transition?
Today energy often remains a matter for professionals and experts, or even big industrial players, with civilians finding themselves more or less excluded from the process of creation, innovation, manufacturing, installation and exploitation of the new sources on which our future depends.
Well, demand is growing for at least a partial re-appropriation of our consumption: from the surge in organic foods, local sourcing, farmers' markets and vegetable gardens, to the increasing number of Fab Labs, repair cafés and refurbishing and recycling centres, it is clear that a real social need to "do something" is emerging and making its presence felt.
But, as much as alternatives to classic consumption exist among the "turnkey" energy providers, with the rise of players with a radically new approach, such as Enercoop, or the emergence of self-generation solutions for your own consumption, such as the installation of solar panels on people's roofs, there is still no solution readily available to the vast majority that is capable of incorporating
"home-made" green energy:
The scale and level of power required to "truly" play a part in the production of energy mean that the main way in which we have been asked to participate is by paying our electric bills every month. To take things further, the only remaining alternatives are to create solar or wind farm cooperatives, which is a rather long and tedious process.
And it is even harder to play a hands-on role and express civic innovation and creativity, owing to the cost and complexity of projects for people who are renting or are in collective housing. In particular, it is hard for "makers" to play a part in Transition while consuming "their" kWh. Taking this thirst for civic emancipation, innovation and experimentation and adapting it to address energy
issues therefore remains a seemingly impossible challenge.
The good news is that we can do better than that.
What is Skavenji proposing?
Skavenji wants to put consumption of self-produced power within everyone's reach, by making production of small amounts of electricity as simple and freely available as growing tomatoes on your balcony.
While this small-scale domestic production does not allow you to escape the distribution system or your supplier, it nevertheless meets a latent need for self-sufficiency and constitutes a first symbolic step, as visible and as gratifying as creating a vegetable garden. The Skavenji approach has the same social and educational benefits and also marks a creative commitment to sustainable consumption.
That's why our goal was to develop a plug-and- play, open source solution that is sustainable, low-tech, frugal and adaptable, allowing you to create your own renewable energy and play a part in energy transition, both individually and collectively.
The prototype (summer 2017)
How does it work?
The Skavenji solution is based on three elements:
1. A box supplied with a small solar panel, able to be easily sited in a living room, office or classroom , and to which it is possible to connect small sources of electricity of various kinds and origins, simply and safely. This "home" production can then be freely consumed in situ.
2. A mobile app, to view your production and the savings you've made but also your effect on the environment.
3. An open platform to which everyone can contribute , with tutorials to learn how to install your own sources of renewable energy: a second-hand solar panel or hand-crafted wind turbine on the balcony, a bike generator in your living room etc. In short, whatever inspiration you get from your imagination!
The challenge here is therefore to help an "energy makers" ecosystem to emerge, and to promote innovation, education and civic re-appropriation of energy issues.
SKAVENJI users will thus have this opportunity to be active producers, produce electricity locally and become "energy makers". They will be able to join a rapidly expanding community of enthusiasts who devise, construct, test, use and spread new solutions for the microgeneration of electricity.
How to proceed
Very simply: to get started, all you need do is plug the box into a socket in your home, then connect the solar panel that comes with the box so you can use it to power your small everyday devices , such as phone, PC, tablet, entertainment system, router, TV, lights etc.
You can then add to it any other energy source and start producing energy, just like that.
Have you got an idea and wonder how many watts it might provide? Just go for it, build it, connect it, test it out... and get the benefit of it!
The box: Open Source Hardware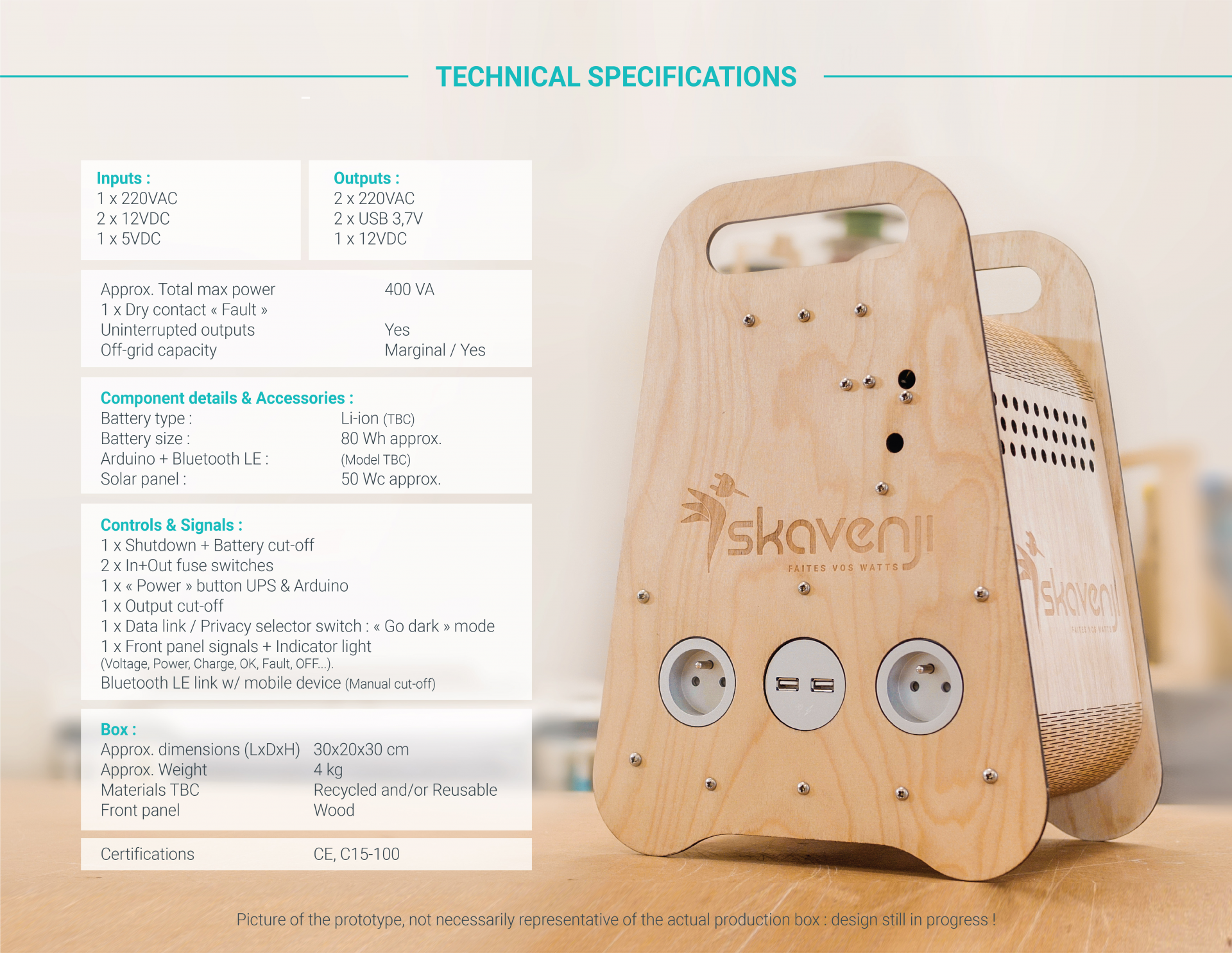 Photo of prototype not necessarily representative of the pre-production box: currently in design
The app : assess and monitor your production
Mock-up of the Skavenji mobile app
If you want, the data generated by the box is transmitted to the mobile app so you can communicate easily with the box, view your production and savings statistics and share them with others or see what others in the community are producing.
A platform open to all
We don't just want to build boxes. Our objective is to make energy production accessible to all, to committed consumers and makers alike, and empower them to take their plans further by having the tools with which to experiment and play their part in the circular economy. In order to achieve that, we will publish basic tutorials on the platform to ensure that getting started with Skavenji is as gratifying as possible.
Mock-up of the Skavenji platform
Ethical Design, Circular Economy, Low Tech... and Privacy
Our boxes are designed to be sustainable, easy to repair and made using natural or reused, repurposed or recycled materials as much as possible. Inspired by Fairphone and Open Energy Monitor, we will manufacture and assemble the boxes and circuit boards locally in France.
The decision to favour low-tech elements, through the ability to find new uses for old alternators, dynamos, stepper motors or old solar panels by bringing them back into the home is also a defining
element of the project: no development is truly sustainable without them!
Lastly, and because there can be no freedom without privacy, Skavenji does not just content itself with respecting your privacy but helps you protect it: the "no data" switch gives you total control over the box and its connection with the app, allowing you to cut that connection as you please.

In short, with Skavenji you do what you want with your watts and with whoever you want!
Rewards in return for financial support
In addition to the option of pre-ordering a box, we have created other more affordable rewards for people who simply want to register their support for the project. Look at the list! If you have a particular idea for a special set of boxes and anything extra that you would like, let us know as we would love to get your feedback and can be flexible.
We are planning to dispatch the first rewards 2 months after the end of the campaign and the boxes and kits around October 2018.
NB: postage and packing charges are included for metropolitan France only. You will be asked to pay the difference for anywhere outside that area!
Le porteur de projet
Project Leader
Gaël Desperriès, Founder
Gaël is an engineer and has spent almost his entire career in the energy industry. Over the years, he has been faced with the limitations of big industrial projects that represent a very heavy cost to people and the environment. Gaël was deeply struck by this observation and the need to question our relationship with energy and so he began to think about ways of producing energy in an urban setting.
He decided to launch Skavenji in Nice at the end of 2016 and to bring partners together to perfect a box that would allow everyone to play a part in energy transition, through experimenting, learning and producing their own renewable energy at home.
Skavenji's partners
Skavenji is working in partnership with Inria to develop the modelling and algorithm part.
The Paca-Est Business Incubator has been providing business accommodation, partial financing and advice for the last year to enable the project to progress.
Assistance from SoFAB, the TelecomValley Fab lab in Sophia Antipolis has been particularly valuable in producing the functional prototype.
What is my contribution for?
Describe your project goal
How will your money be used?
What stage is the project at?
Up to now, the project has progressed through 3 preparatory phases:
Production of the prototype , which made it a physical reality, allowing it to enjoy public acclaim: winner of the Trophée Objets Connectés & Services 2017 prize held at the SophiaConf annual conference dedicated to open source technologies; semi-finalist in the "10,000 Startups to Change the World" event and La Ruche Digital Impact initiative, and a winner in the COTE&Invent 2018 competition etc.

Obtaining of a French Tech Grant , which enabled us to move the project on from a technical point of view, to the stage where it finally made sense to propose crowdfunding and secure the remaining financing for the app and web platform.

Building up the community to bring it to life and help it to take off.
What next?
We have designed this wonderful prototype with the financing available. But we now need YOU to help us get from the prototype to production : by contributing just a small amount, you are financing the manufacture of the first batch of boxes, for them to reach the market at the end of 2018.
With €20,000, Skavenji will thus become available for sale ; this sum will allow us to:
Finalise the development that is already partially financed by the French Tech Grant and test
out the final version of the box,
Launch the pre-production phase with a small run (at least 30 units),
Cover the cost of components and reward items, production kits and their delivery,
But also:
Finalise the Open Source files and prepare the documentation,
Put in place the means of leading the community based on the platform,
Put together an initial basic set of tutorials and resources to enable first-time users to create their first energy sources from recovered parts.
Exceeding this target will open the way to other possibilities:
Further improve the mobile app and platform and their interface,
Develop a new range of peripherals,
Or even, if the amount raised demonstrates great passion for the idea, finance a study on <u><strong>turning Skavenji into a Collective Interest Cooperative Enterprise(SCIC)</strong></u>. This legal structure, with capital and governance open to the user community, allows profits and decisions to be shared, which seems normal to us, given that our fellow citizens are contributing their creativity, energy and enthusiasm to the project or, in short, its essential value.
Whatever happens, this is just the start for Skavenji as, besides these goals, the promotion of low tech solutions and the development of renewable energy sources through civic participation are much bigger subjects!